Zbigniew Boniek – "To pass the ball to Pirlo is to hide it in a safe"
Xavi – "I watch Juventus just to see him"
Paul Scholes – "[Pirlo] could run a midfield with a glass of red wine in one hand"
Joe Hart – "Wow"
For all that he's won, from countless Scudetti, two Champions League winners medals to the 2006 World Cup, Andrea Pirlo's greatest legacy – perhaps – will forever be his standing in the eyes of some of the greatest players to ever play the game. Pirlo isn't the first player to have accumulated every trophy possible, and he certainly isn't the first player whose name is synonymous with the aesthetics of football.
But very few players can claim to have married both excellence and elegance like the Italian.
Effortless brilliance was not at first such a natural look on a player who recalls struggling in the academy system of his native Brescia because his teammates refused to pass the diminutive prodigy the ball.
After breaking into the first team at 16, what should have been a dream move to his boyhood club Inter followed. It would have been easy to imagine a smooth course for the Lombardy born playmaker from there.
For the course to smoothen, however, Pirlo needed some more time in the rough – and his struggle for first-team recognition at Inter saw him loaned out to Reggina before making a temporary return to Brescia.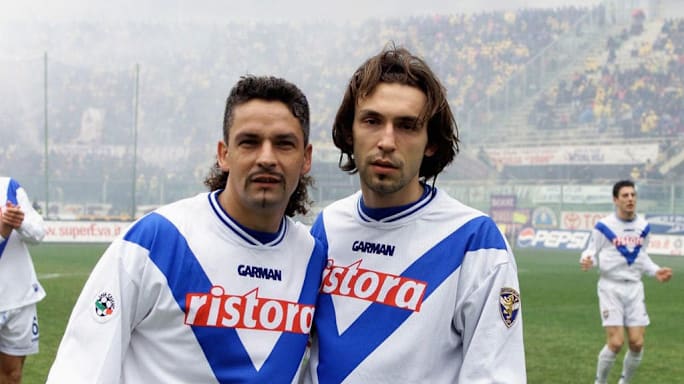 Life, and football, have strange ways of working out, and Pirlo found himself back home, alongside Roberto Baggio – the player who he'd idolised since he was a youngster.
Stranger still, it was exactly because Baggio was occupying the number 10 role which he had done so much to define that space had to be made for Pirlo elsewhere. That elsewhere? None other than the deep-lying midfield role, where he stayed ever since.
There was only so long a talent like Pirlo's could remain where he wasn't wanted, and with AC Milan flexing their financial muscle to put an end to an unhappy first act, a happier second one was about to begin on the other side of San Siro.
It was here that the unfairly overlooked boy from Brescia achieved the status of a footballing colossus, joining I Rossoneri during a glorious period in their history – where he was the ever-reliable fulcrum which supported the excellence of some of football's most stellar attacking presences.
Among many other trophies, three Champions Leagues followed, each with a different resonance.
In the first of these, a relatively fresh-faced Pirlo was substituted before the real action got underway – a gruelling penalty shootout which saw Milan conquer Juventus in 2003. The second seemed to promise a statement performance from Pirlo and Milan from the off, with the Italian's free-kick, which Paolo Maldini headed in, getting a first-half maelstrom from Milan underway as they went 3-0 up at the break.
Instead, it became the most agonising moment of his football's career. A game which might have crushed so many other luminaries left Pirlo numb and contemplating his long-term future in the game.
A chance was given in the third final to exorcise the ghosts of 2005, and any doubts which had settled over Pirlo's excellence, in 2007.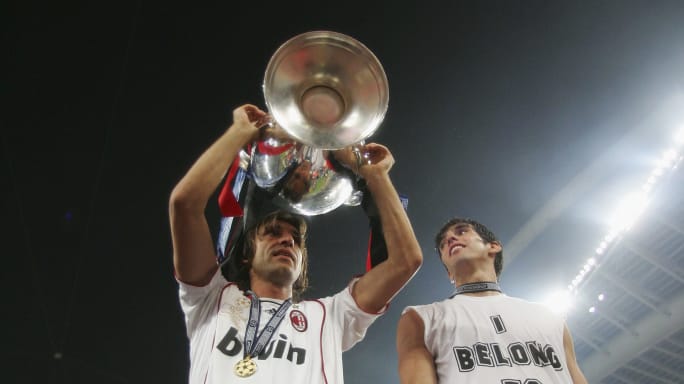 After trouncing Manchester United at San Siro in the semi-final, a game where Pirlo's subtlety helped set up Clarence Seedorf, all that was needed for a Milan team that were objectively the best club in Europe was composure in the final.
The opponent against which Milan simply needed to keep their heads? Liverpool again.
This time, there could be no question of Milan's superiority, with a metronomic Pirlo excelling as the drumbeat behind the cavalry of Kaka, Seedorf and Filippo Inzaghi. Ironically, though, it was one of his uglier assists that helped I Rossoneri on their way, as his free-kick bounced off Inzaghi and into the back of the net. What connects the overwhelming relief of Athens 2007 to what came afterward is one of the most talked-about international careers of the new millenium.
Euro 2004 was a non-event for Italy, and at times it looked like the 2006 World Cup would be the same – with his team engulfed by the Calciopoli scandal – which saw so many key players unsure about their future at club level – barely scraping past Australia in the Round of 16.
Pirlo found himself once again immersed in a talented side in need of composure. So, again, the Italian redefined himself by alleviating the pressure, making up for a middling performance by supplying the sang-froid to slice open Germany's defence.
In doing so, he set up Fabio Grosso's now famous semi-final goal – before going on to score Italy's first penalty as they were crowned tournament winners.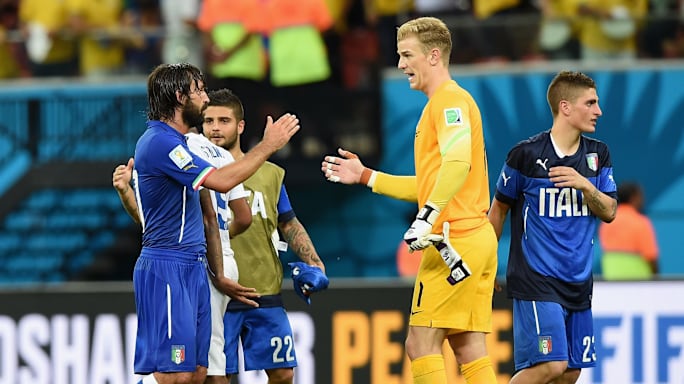 As the third and final act of Pirlo's career at the elite level began in Turin, where Gianluigi Buffon couldn't believe his luck after Pirlo joined Juventus on a free ("The first thing I thought was, 'God exists'"), he continued to produce breathtaking moments for Gli Azzurri.
His display against England in the competition's quarter final was so dominant it provoked an outbreak of national soul-searching as England wondered if they could ever produce a midfielder of similar tact; not to mention Joe Hart's own undoubted soul-searching after being embarrassed by Pirlo's languid panenka in the same game.
After being one of the standout overall players in his penultimate competition, he was rather a spent force as Italy exited the group stage in the 2014 World Cup, but still almost found time to humiliate Joe Hart once more, completely bamboozling him with a free-kick which provoked the aforementioned 'wow' after hitting the bar. As with all such formidable footballing influences, there has been a significant epilogue for Pirlo, who must have seen a bit of himself in Luka Modric's historical performances in 2018, not to mention England's seemingly endless search for a ball-playing midfielder.
Most amusingly, another long-haired, languid midfielder has sauntered through the ranks at Brescia in Sandro Tonali, a player so evocative of Pirlo that there's surely some sort of intellectual property dispute for him to settle.
With Pirlo quietly taking his coaching badges at Italy's fabled technical headquarters in Coverciano, perhaps this seemingly once-in-a-lifetime genius might yet have a sequel for our eyes to feast on.
Let'