Footballing purists recoiled in horror at the unveiling of Juventus' 2019/20 home shirt. A pink stripe separating singular blocks of black and white. Hardly what we've become accustomed to from the Old Lady.
However, history tells us the Turin giants haven't always been clad in black and white stripes. Prior to 1903, they spent two years playing in an all-white strip, and an even more eyebrow-raising four years playing in all-pink. So 2019's effort wasn't so far from the blueprint after all.
Needless to say, Juve have become synonymous with black and white stripes, and they've produced some absolute classics over the years.
Here's our countdown of Juventus' top ten greatest home shirts of all time.
---
10. Simplicity Is Key (2018-2019) Kicking off our countdown is this little beauty. Admittedly the stripes are sparse and the new badge is absolutely horrific, but that aside it's a brilliant kit.
Often football shirts can become overcrowded and over complicated as numerous sponsors begin appearing on the backs and the sleeves, but Juve's 2018 home shirt is a blast from the past. Simplistic and stylish.
After all, Cristiano Ronaldo isn't joining a club with a rubbish home shirt.
---
9. Nike's Maverick Year (2005-2006)
Remember when Nike went rogue and started putting the Nike tick in the top corner of their shirts and the team crest in the centre?
The formula produced some absolutely brilliant shirts, none less than this one. It was important for Juve to have a decent kit for this campaign, because let's face it, if you're going to have your title stripped from you and be relegated for match fixing, you might as well look good while doing it.
---
8. Lotto's Classic (2002-2003)
Any self-respecting Juve fan's heart will drop at the sight of this shirt.
The club came within a penalty shootout of Champions League glory in 2003, with Juve and Milan missing an incredible five penalties out of the ten that were taken. It was Juve who found themselves on the wrong end of the 3-2 outcome, though their wounds were healed somewhat thanks to their Serie A triumph.
There's just something right about an Italian club having their kits manufactured by Lotto.
---
7. European Cup Success (1984-1985) Sometimes you just look at a kit and instantly only see one player. This kit couldn't scream Michel Platini anymore than it already does.
The Frenchman was on fire in this strip, securing multiple team and personal accolades – including the European Cup and the Ballon d'Or.
It was a curious season for I Bianconeri as they finished an underwhelming sixth in Serie A, though that was overshadowed by their overseas success – as they were crowned European champions for the first time in their history.
---
6. All Black and White (1976-1977)
It takes a special kind of club to be able to have no sponsor, no manufacturer logo, no player name and no badge, yet still be instantly recognisable.
That's exactly what this shirt is. Just black and white stripes. Yet Newcastle United still aren't the first club that spring to mind, amazingly.
An open neck with a big collar, this shirt couldn't be more 70s Italy.
---
5. Back to Basics (2012-2013)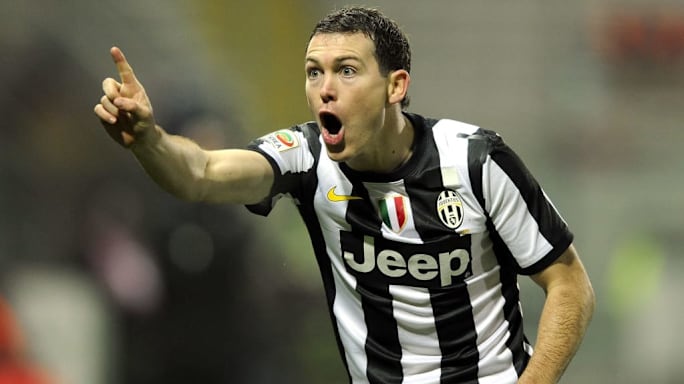 The Old Lady have had some horrors of late with zig zags and pinstripes, but 2012's design was a refreshing change.
Just a Nike tick, a sponsor and a Juve badge. Oh, and a Scudetto to symbolise last seasons' league triumph, obviously.
---
4. The Sky Sports Enigma (2004-2005)
If a football shirt has a Sky Sports logo plastered over the middle of it, let's be honest it should look horrific. But for some reason, it's fantastic.
What's even more curious about this shirt is that the logo in question is a garish yellow and blue, colours which don't mix on a traditional black and white Juve shirt.
There's no explaining why this shirt looks so good, maybe it's just so bad it's brilliant.
---
3. 90s Nostalgia (1996-1997)
You know when something just looks right? There's something about a Kappa shirt, with a Sony sponsor and the name Del Piero on the back.
Fresh off the back of their Champions League triumph over Ajax, the Old Lady produced this stunner and went on to have an equally brilliant season.
A Del Piero inspired Juventus would go on to secure league glory and were within 90 minutes of becoming the first side to defend the newly formed Champions League, only to be beaten by
Borussia Dortmund in the final.
---
2. Black and White Everywhere (2015-2016) Ok, so you know when people say 'sometimes less is more', they're definitely not referring to stripes on a Juve shirt. The more the merrier, see above.
It was also another stellar year for Juve on the field, as they secured a historic domestic treble, clinching both cups as well as the league title. Failure to reach the quarter-finals of the Champions League was the only flat spot in a monumental campaign.
---
1. The Greatest (1998-1999)
There aren't many years that pass by without a Juventus captain lifting silverware, although this is one of them.
Incredible when you consider I Bianconeri boasted the newly-crowned World Cup winner Zinedine Zidane in their ranks.
Silverware aside (it's overrated anyway, who cares about winning when you can look cool), this is without doubt the greatest Juventus shirt ever. Kappa logos all the way down the arms and Juve badge on the sleeve.
Quality.
---
Let'