After the Scottish football season was put to an end, Celtic have now won nine league titles in a row, and although 'fitba' comes under the wrath of the footballing world, topping the table that many times at any level is a hell of an achievement.
But it got us thinking, has anyone actually won more than nine in a row? Surely not?
To answer that question, we took a look at the longest runs of consecutive league title wins throughout Europe.
---
7 titles 2002-2008 – Lyon, France Before Paris Saint-Germain took the reins of French football, Lyon enjoyed a recor- breaking start to the 21st century with seven consecutive titles between 2002 and 2008.
---
7 titles 2013-2019 – Bayern Munich, Germany Bayern Munich are one of the most dominant forces in world football and have collected seven consecutive Bundesliga titles between 2013 and 2019. With the current season back underway in Germany, Bayern could be on their way for number eight.
---
7 titles 1997-2003 – Maribor, Slovenia Since Slovenia gained independence in 1991, Maribor have won the top-flight title a total of 15 times, with seven on the bounce coming between 1997 and 2003.
---
7 titles 1997-2003 & 2011-2017 – Olympiacos, Greece Olympiacos dominated the league in the late 90s and in the new millennium. The side from Piraeus celebrated seven straight titles from 1997-2003, five straight from 2005-2009, and another seven consecutive league trophies from 2011-2017.
---
7 titles 2013-2019 – APOEL Nicosia, Cyprus APEOL Nicosia clinched their seventh consecutive Cypriot championship last season – a run dating back to 2013. Their achievement eclipsed Omonia's run of six from 1974 to1979.
---
8 titles 2012-2019 – Juventus, Italy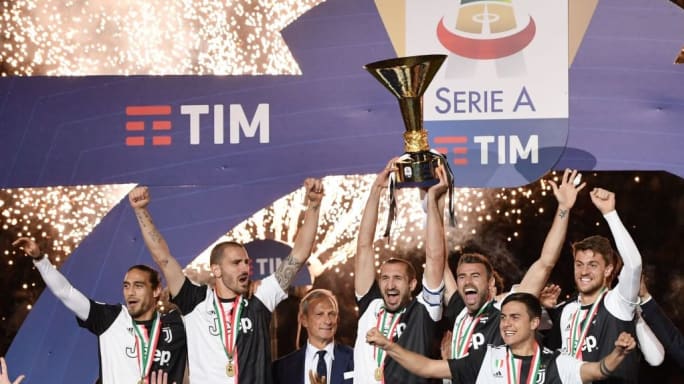 Fair to say Juventus have wiped the floor with Italian football this past decade, no? Eight straight Serie A trophies from 2012 to 2019, and leading the pack in the current season. Untouchable.
---
8 titles 2012-2019 – The New Saints, Wales
Nothing says total dominance like eight consecutive title wins from 2012 to 2019, including two trebles and five doubles, does it? You'd have to let someone else have a chance at some point wouldn't you.
---
8 titles 2009-2017 – FC Basel, Switzerland When the Swiss FA changed the format of the their League in 2003, Basel really stood up and took notice. Winning 11 titles, eight straight from 2009 to 2017.
---
9 titles – Celtic & Rangers, Scotland Ah, the Old Firm derby. Each club has seen their fair share of dominance, both enjoying a period of nine consecutive league trophies. Celtic from 1966 to 1974, and again from 2012 to 2020. With Rangers completing the feat from 1989 to 1997..
---
9 titles 1993-2001 – Dynamo Kiev, Ukraine Dynamo Kiev dominated Ukrainian football in the 90s following the dissolution of the Soviet Union, winning the league every year between 1993 and 2001. The club was named the Eastern European club of the 20th century by France-Presse.
---
9 titles 1954-1962 – CSKA Sofia, Bulgaria
Bulgarian football hasn't seen such supremacy since CSKA Sofia won nine leagues on the bounce from 1954 to 1962. Although Ludogorets Razgrad's recent eight-in-a-row is looking likely to challenge the long-standing record.
---
10 titles 2001-2010 – Sheriff Tiraspol, Moldova Since its inception in 1992, Moldovan football has been completely and utterly controlled by Sheriff Tiraspol. They've picked up 18 titles including 10-in-a-row from 2001 to 2010.
---
10 titles 2001-2010 – FC Pyunik, Armenia An almost identical record to their Moldovan counterparts. After gaining independence from the Soviet Union, FC Pyunik have picked up 14 titles, including 10 in a row from 2001 to 2010.
---
10 titles 1914-1925 – MTK Budapest, Hungary MTK Budapest won 10 Hungarian league titles in a row but their triumph spanned 11 years. Winning the league in 1914, two seasons were missed due to the first world war. When football resumed, MTK Budapest won another nine from 1917 to 1925.
---
10 titles 1990-1999 – Dinamo Tbilisi, Georgia
Dinamo Tbilisi were one of the leading clubs in Soviet football and continued their prominence in Georgian football throughout the 90s, picking up every league title from 1990 to 1999.
---
11 titles 2006-2016 – Dinamo Zagreb, Croatia In the 29-year existence of the Croatian first division, Dinamo Zagreb have won it 20 times. 20. I guess it's really no surprise that they won it 11 times on the bounce between 2006 and 2016.
---
13 titles 1992-2004 – Rosenborg BK, Norway Rosenborg's 'second golden era' began in 1985 with a league win, and ended with 19 league titles and six cups, including 13 consecutive league titles between 1992 and 2004.
---
13 titles 2006-2018 – BATE Borisov, Belarus
BATE Borisov's Vitali Rodionov has become the first ever player to win a top-flight league title for 12 consecutive seasons.

06, 07, 08, 09, 10, 11, 12, 13, 14, 15, 16, 17 ?

They scored an injury time equaliser to clinch it ⏱?? pic.twitter.com/AL4e4HD5nb

— Ladbrokes (@Ladbrokes) November 26, 2017
Think back to 2006; the world has changed a lot since then. The only constant has been BATE Borisov winning the Belarusian Premier League, until 2018.
14 titles 1991-2004 – Skonto, Latvia
Skonto were founded in 1991, they also won their first Latvian league that year. 14 league championships in a row followed. Sadly the club went bust in 2016. Short but sweet eh.
---
14 titles 2003-2016 – Lincoln Red Imps, Gibraltar For a semi-professional team, Lincoln haven't done too badly in the record books. They've won their league 23 times, including 14 consecutive titles between 2003 and 2016. They were also the first Gibraltarian side in the Champions League in 2014.
---
Let'