COMMENT: With just four wins in their last 11 games, the Giallorossi face Inter on Sunday staring at the prospect of their domestic and European challenges falling by the wayside

By Kris Voakes | International Football Correspondent
After finishing a relatively close second in Serie A last season, Roma were expected to make great strides in 2014-15.
They added depth to their ranks in every department in the summer and set off like a train over the first month of the campaign. Five wins from five in the domestic league and a sensational 5-1 victory on their return to Champions League action against CSKA Moscow suggested they were ready to make that next step.
But in their 11 matches since that time, the Giallorossi have recorded only four wins and fallen to as many defeats. What's more, they have scored just nine goals in the last eight games. Indeed, those struggles in the final third have helped to strangle their advances on both the top spot in Serie A and the qualification places for the last 16 of the Champions League.
While they sit only three points behind leaders Juventus domestically, they have looked off the pace and short of ideas in dropping unnecessary points in recent weeks. Inter, Manchester City and Milan are all due to come to the Olimpico before the Christmas break and a tricky trip to Genoa must also be negotiated, making for a testing three weeks ahead.
It is at this sort of time that Rudi Garcia needs to reassess the direction his side is taking.
The sparkle created by the incisive runs of Gervinho has been lost since that first month of the season. The form of playmaker Miralem Pjanic has taken a significant nosedive. As a result of such difficulties, goals have become a rare commodity for a team which dominates possession for long spells. And solutions must be found.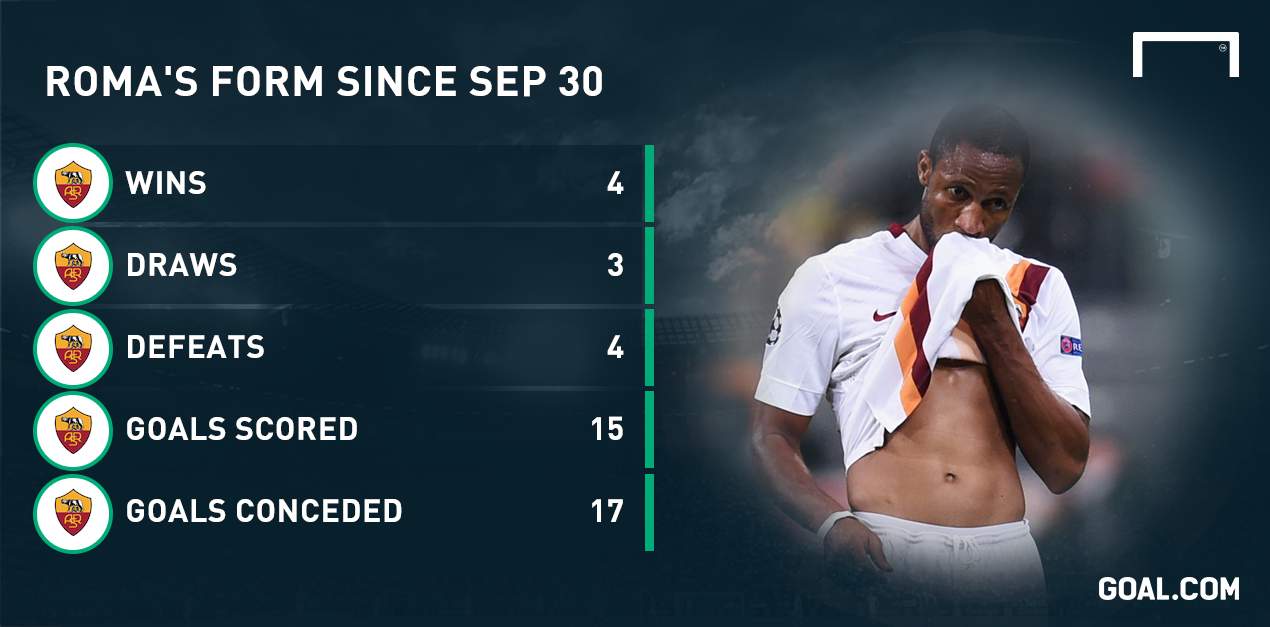 In the 4-3-3 formation which has become their trademark, much depends on Gervinho's ability to get beyond defenders out wide. There is also a significant weight on the shoulders of Pjanic to find the key final pass to bisect the sturdy banks of four most teams have taken to placing in front of the Giallorossi.
But once the Ivorian is out of form, Roma are compromised. Moreover, Pjanic's game seems to be affected every time he lines up with Seydou Keita. It is the Malian's modus operandi to dominate all aspects of midfield play, and this has tended to step on the toes of his Bosnian team-mate.
Therefore, it may well be that the time is right to change shape to a 4-3-1-2 to give Pjanic more licence and relieve some of the pressure on Gervinho's shoulders.
With Pjanic allowed to concentrate on picking holes in opposition defences and Keita given the opportunity to patrol the midfield alongside Daniele De Rossi without fear of taking from Pjanic's game, Roma may have more structure back in their play. It would also mean more chances for Mattia Destro to start games alongside Francesco Totti or Adem Ljajic, rather than be used as a foil for the ageing skipper.
And Inter may well be the very best opponents against whom to trial such a system. Having just switched systems themselves since the return of Roberto Mancini as coach, Roma may well find success in stretching the two Nerazzurri centre-halves and creating space for Pjanic to work his magic in the final third.
More than anything, a change may well just freshen things up for the stuttering Giallorossi. The next three weeks will be crucial in the success or otherwise of their season. Failure to address their developing faults could prove fatal.
Follow Kris Voakes on