In the summer of 2006, Italian football as we know it changed forever.
Calciopoli would throw calcio into complete disarray, as the world was made aware of the shocking goings-on at some of the most famous footballing institutions on the peninsula. As punishment for their involvement in the match-fixing scandal AC Milan got a slap on the wrist, Lazio got a punch in the face, Fiorentina got hit with a crowbar, and Juventus were shot five times in the head…or they were relegated to Serie B, stripped of two league titles and fined €75,000.
But what if Juventus weren't relegated to Serie B in 2006?
What if, on appeal, Juventus' punishment was reduced to the following:
– A -20 point deduction for 2006/07 Serie A season.
– Stripped of two Scudetti (2005 and 2006).
– Out of UEFA Champions League for 2006/07 season.
What would've happened?
Well, that's exactly what we at 90min are here to try and work out.
---
The Board of Directors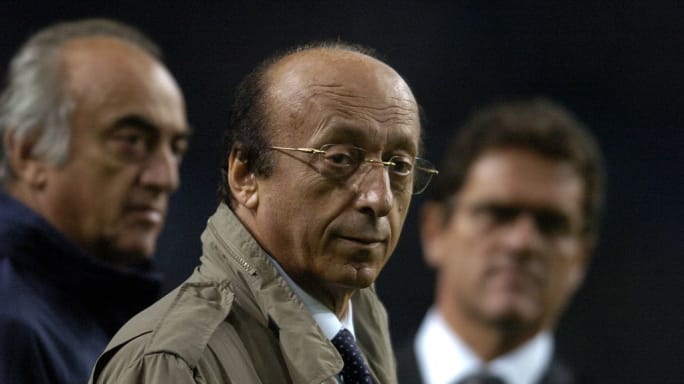 First thing's first, Juventus retaining their Serie A status doesn't mean that there isn't a change in the club's board of directors. Calciopoli still happened in this timeline so Luciano Moggi, Antonio Giraudo and co. all still leave I Bianconeri. In light of this Juve would've still opted to hire Carlo Sant'Albano to hastily weave together a new leadership team at the club, and most importantly, to hire a new Sporting Director to replace Moggi.
The club's first choice for this role was future Tottenham Hotspur director Franco Baldini, but Juve's involvement in the scandal – even with a lessened punishment – and the TV rights issue that had dogged the league for many years meant that their number one choice to lead La Vecchia Signora into a new era would still turn down the role.
Baldini: "How could I have taken it? I believe the way the television rights are divided in Serie A is one of the greatest evils in our game. If I had accepted the Juventus job, it would have meant serving Juventus' interests and that, in turn, would have meant maintaining the status quo on so many things, including TV rights, I could not in good conscience do that." So with Baldini refusing to takeover, the woefully inexperienced Jean Claude-Blanc (who liked tennis a lot more than he liked football) is drafted in as the club's chief executive and Alessio Secco gets the club's new sporting director job…somehow.
Yes, Secco and Blanc are at the club, and yes, that is a complete and utter disaster. Being in Serie A won't change the fact they were woefully incompetent and distinctly not football men.
With the boardroom full of new faces, we can expect some changes in the dressing room too – mainly at managerial level.
---
First-Team Manager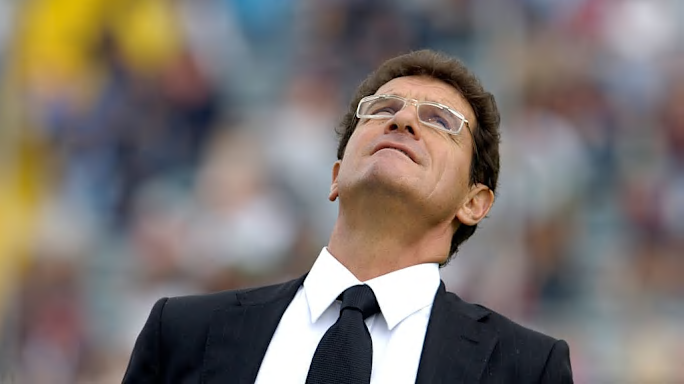 Fabio Capello still leaves in the summer of 2006 because he was seemingly, no matter what the circumstances, always going to leave. According to Gabrielle Marcotti, murmurs of Capello's imminent departure from Turin had started way back in April – before Calciopoli hit the headlines. And although Capello rebuffed Inter's interest (for the fourth time in his career), when Real Madrid came calling at the end of May, the future England manager was happy enough to answer.
One meeting with Ramon Calderon over seafood and wine was all it took for Capello to decide he wanted to take the Real Madrid job.
Capello's out of the picture, and Juventus need a new manager; but truthfully, they don't have a wealth of options to choose from in the managerial market. Marco Giampaolo is highly thought of in 2006 for his exceptional work at Cagliari, Stefano Colantuono is riding a wave of success at Atalanta, and Cesare Prandelli is seen by many to be the next great Italian manager (which he wasn't, as it goes) however it's Didier Deschamps who takes over. The former Juve midfielder had been linked with the job prior to Capello's appointment in two years prior, and was probably the pick of the bunch Juve had to choose from in 2006.
---
Juventus' Players Now onto something that will actually change in this timeline: the playing staff.
As you may already know, in summer of 2006 the Juventus first team squad underwent a rather drastic facelift.
Out went Patrick Vieira and Zlatan Ibrahimovic to Calciopoli beneficiaries Inter, Gianluca Zambrotta and Lilian Thuram signed for Barcelona, Adrian Mutu was shipped off to Fiorentina, and Fabio Cannavaro and Emerson followed Fabio Capello to Real Madrid.
This myriad of world class talent left, mainly, because of the financial and footballing restrictions put on the club by relegation to Serie B.
Had Juventus won the right to stay in Serie A on appeal, then – obviously – the club would have been in a much more financially sound position heading into the 2006/07 season and therefore able to keep hold of more of their prized assets.
---
Gianluca Zambrotta – Stays: As he has stated on multiple occasions, Zambrotta never actually wanted to leave Juventus, ever, but was sold by Secco without consultation: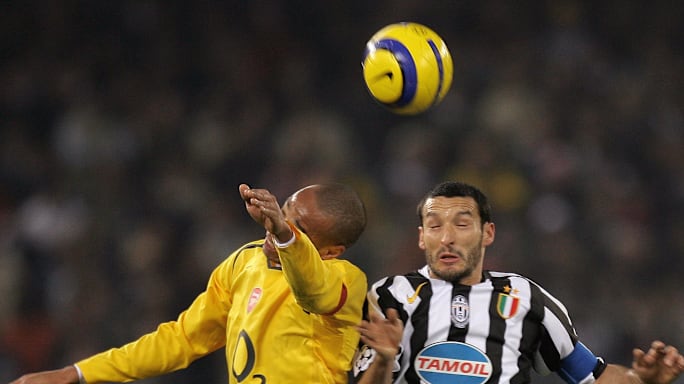 "I honestly never really wanted to leave but in truth I was sold. I had just finished putting together a new house in Torino. When I went to Juventus headquarters to meet with Barca's executives, Juve had already signed the documents to sell me."
Had Juventus not been in such a financial black hole and still in Serie A, Zambrotta wouldn't have been sold and would've played out the rest of his career at the club.
Fabio Cannavaro – Stays: Accepting a minuscule €7m bid from Real Madrid for a soon-to-be Ballon d'Or winner was a bit of a disastrous move for La Vecchia Signora…so in this timeline, common sense prevails and Cannavaro stays.
Lillian Thuram – Leaves: It's difficult to say that Calciopoli came at an opportune time but it was a decent excuse to sell Thuram – a player who had started to show signs of being, you know, very old, in 2006.
Adrian Mutu – Leaves: Due to his drug ban, Mutu barely played for Juventus so he wasn't exactly missed when he was sold to Fiorentina.
Zlatan Ibrahimovic – Leaves: It's Ibra, so Calciopoli or no Calciopoli, of course he would've left for Inter.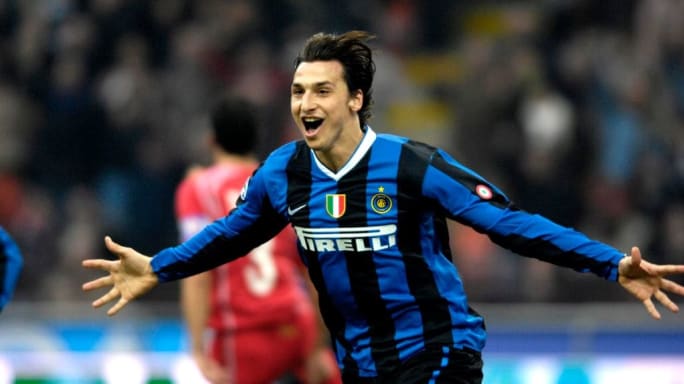 Mino Raiola confirms as much: "When Zlatan left Juventus, he'd already been prepared for a year."It wasn't because of the scandal, it was nothing to do with that, I had already arranged the deal."
Emerson – Leaves: No Capello, no Emerson. It's as simple as that.
Patrick Vieira – Stays: In 2006, unbelievably, Vieira was seen as the most important signing of the summer in Italy when he rocked up at Inter. With Serie A football guaranteed, and former French teammate Didier Deschamps at the helm, maybe this deal wouldn't have happened.
---
Now onto the players that stayed.
And before we move onto this, just, you know, brace yourselves. Alessandro Del Piero – Stays: The club's record goalscorer and appearance maker was the first player to declare that he would stay at Juventus, even if they were demoted to the second division.
So, yes, Del Piero stays in this alternative timeline too. But it's worth noting that had Capello still been at the club heading into the 2006/07 season, Del Piero would likely have left the club that summer.
Del Piero calling Capello's tenure at the club a 'reign of terror' tells you all you need to know about their relationship.
Pavel Nedved – Stays: In the summer of 2006, Nedved said the following:
"I will end my career at Juventus. I feel I owe a lot to the team and especially to the Agnelli family. Serie A or Serie B makes no difference, it's always football if you face it with the right attitude."
What a guy.
David Trezeguet – Stays: Trezeguet was a firm favourite of management and the fans, and undoubtedly would've stayed at the club for a few more years (more on that later).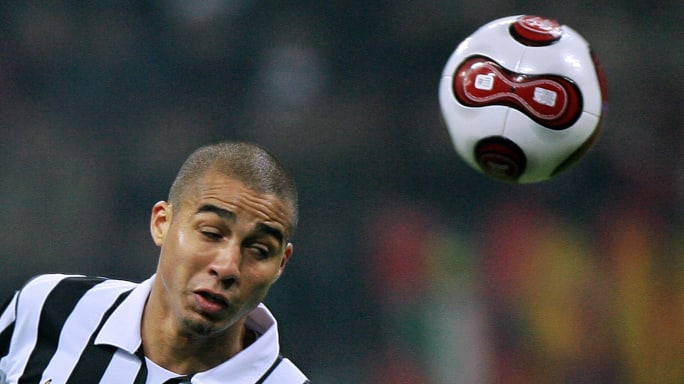 Mauro Camoranesi – Stays: Perhaps the most hesitant to stay out of all those who dropped down to Serie B with Juve, but would've been more than happy to continue in Turin in Serie A.
Gianluigi Buffon – Leaves: Yes, yes, I know, I know. It sounds crazy, it really does. BUT, this isn't me making bold claims, Buffon literally said he would've left had Juve not been relegated as he wanted a 'different experience'…possibly at AC Milan.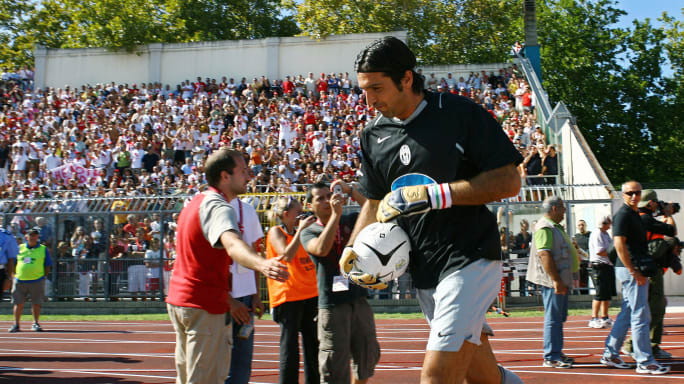 "Had we remained in the top flight then I probably would have looked to have moved on. I can't deny that after five years here I was tempted by a different experience, probably with Milan."
---
Sold: Gianluigi Buffon (AC Milan – €25m), Emerson (Real Madrid – €16m), Zlatan Ibrahimovic (€25m), Adrian Mutu (Fiorentina – €8m), Lillian Thuram (Barcelona – €5m).
Total: €79m.
---
The aforementioned sales of some of the very best players at the club would mean that Juventus would be in need of some (many) reinforcements. And due to being a Serie A club, and not a Serie B one, there would be more finances available to sign the calibre of players Didier Deschamps wants (this is important for later).
Juventus would need a new number one goalkeeper, a full-back, at least one midfielder, one starting calibre striker and one backup striker.
Let's start with the surprisingly easy one: the goalkeeper.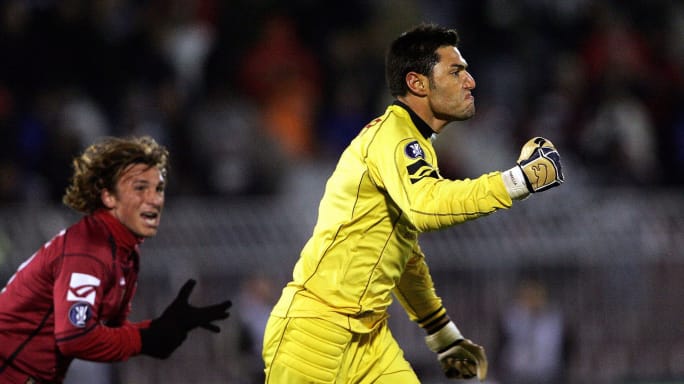 Way back in 2006 there was a pretty obvious replacement for Gianluigi Buffon. Hailed as the 'new Buffon' (like literally every other remotely competent Italian goalkeeper of the last 15 years) Marco Amelia was one of the hottest prospect in Italian football at this time, having shone at overachieving Livorno for a number of years.
It may seem hard to believe, when you consider the career Amelia would go on to have, but this would have been a huge statement signing for Juve.
Filling the full-back void left by Lillian Thuram would be relatively straightforward too. Off the back of a fantastic World Cup campaign, Juventus could've beaten Inter to the signing of Fabio Grosso by guaranteeing the Italy international more gametime (something he didn't see a lot of at San Siro) and by offering more than the mere €5m I Nerrazzuri paid for him.
As we move further up the pitch, things start to get a little trickier.
Finding a Serie A level replacement for Emerson, without the lure of Champions League football or competing for the league title (because of the 20 point deduction), would prove rather difficult.
The lack of Champions League football would rule Juventus out of the running to sign the likes of Michael Ballack – who signed for Chelsea that summer – Alberto Aquilani and Fernando Gago – who signed for Real Madrid that summer.
Two bullets dodged there then.
Juve could have accelerated moves to sign Tiago Mendes and/or Sergio Almiron by a year, but both those signings were disastrous so let's not do that.
That leaves us with three genuinely viable options: David Pizarro, Christian Ledesma and Riccardo Montolivo.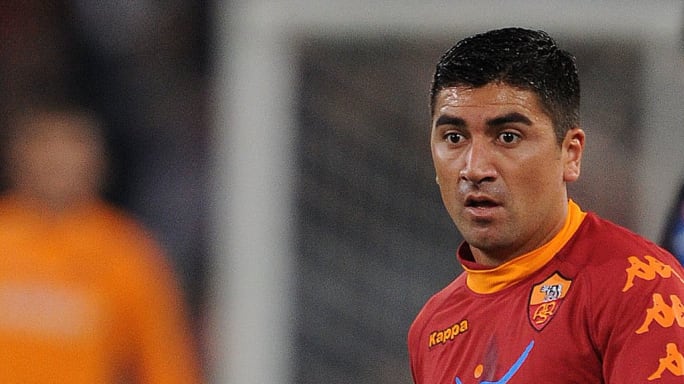 They all have their merits.
Ledesma was one of the most consistent performers in Serie A while at Lecce, Montolivo had all the makings of a world class midfielder (didn't work out…but still) and Pizarro was the closest thing to Andrea Pirlo you could get without actually getting Andrea Pirlo.
But the one that really stands out is Pizarro, who would be available for around €13m – €3m less than Emerson was sold for – from Inter. Bargain.
On top of the move for Pizarro, Juve would also still snap up Cristiano Zanetti on a free transfer and acquire Marco Marchionni from Parma.
Last, but not least, we have the striker conundrum. Having sold both Ibrahimovic and Mutu, Juventus would need – you guessed it – two strikers; one starting calibre, the other bench fodder. The first port of call would be Luca Toni, but the Della Valle brothers would refuse to sell. So, akin to the deal to sign Grosso, Juve would instead steal a march on Inter and bring in Hernan Crespo on a two-year loan.
Volleys for days.
As for the backup striker role, recall Fabrizio Miccoli from his loan to Benfica and KEEP HIM BECAUSE HE WAS REALLY REALLY GOOD.
---
Signed: Marco Amelia (Livorno – €12m), Fabio Grosso (Palermo – €7m), David Pizarro (Inter – €13m), Cristiano Zanetti (Inter – Free), Marco Marchionni (€4.5m) Hernan Crespo (Chelsea – 2-year loan).
Total: €36m.
---
Juventus' lineup 2006/07 Season ---
2006/07 Fixture List
With Juve back in Serie A for the 2006/07 season, that means Messina will actually be relegated, which we're fine with because they were absolutely terrible.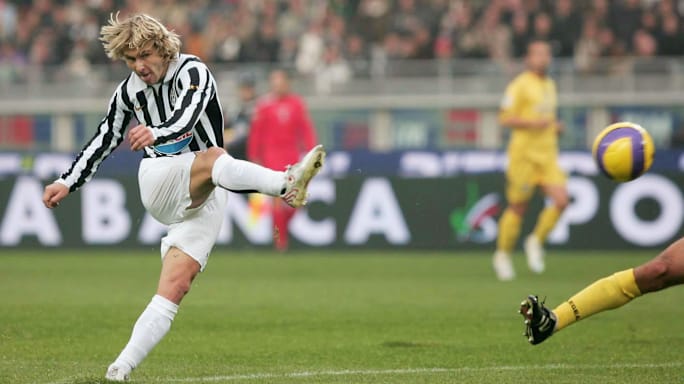 As well as take their place in Serie A, Juve would also take their fixture list:
September: 10/9: Udinese (H); 17/9: Ascoli (A); 20/9: Reggina (H); 23/9: Catania (A).
October: 1/10: Livorno (H); 14/10: Siena (A); 21/10: Empoli (H); 25/10: Palermo (H); 29/10: Chievo Verona (H).
November: 5/11: Torino (A); 12/11: Cagliari (H); 19/11: Lazio (H); 25/11: Milan (A).
December: 3/12: Sampdoria (H); 10/12: Atalanta (A); 17/12: Inter (A); 20/12: Parma (H); 23/12: Fiorentina (A).
January: 14/1: AS Roma (H); 21/1: Udinese (A); 28/1: Ascoli (H).
February: 4/2: Reggina (A); 11/2: Catania (H); 18/2: Livorno (H); 25/2: Siena (H); 28/2: Empoli (A).
March: 4/3: Palermo (H); 11/3: Chievo Verona (A); 18/3: Torino (H).
April: 1/4: Cagliari (A); 7/4: Lazio (A); 15/4: Milan (H); 21/4: Sampdoria (H); 29/4: Atalanta (H).
May: 6/5: Inter (H); 13/5: Parma (A); 20/5: Fiorentina (H); 27/5: Roma (A). 
---
September & October
Juventus may have started the season with -20 points, but bah gawd did the fixture list try and make sure they weren't stuck in the relegation zone for too long. Put simply, the first two months of Juve's season couldn't have been easier.
Yes, they start with a draw at home to an Antonio Di Natale-led Udinese, but from there on in it's pretty plain sailing.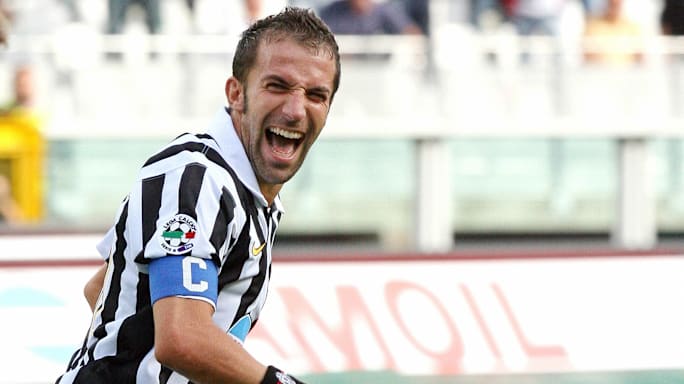 Deschamps' men rack up six wins on the bounce over the six of the very worst teams in the league, courtesy of the remarkable form of Alessandro Del Piero, before a shock defeat at home to Palermo, and a draw with high-flying Chievo Verona.
Their remarkable start to the season, however, is only enough to take them to a whopping 0 points tally.
This is going to be a long season.
Points: 0.
Position: 20th.
---
November & December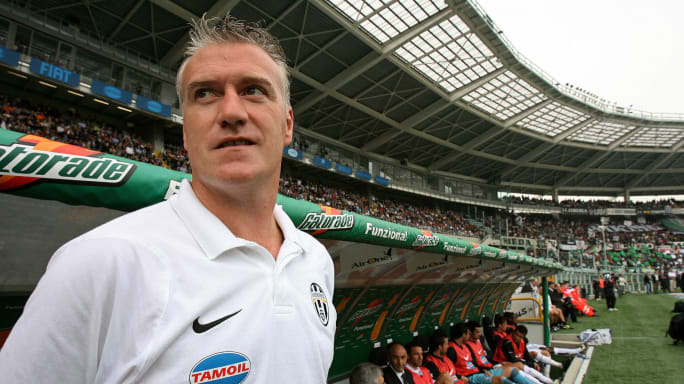 Things start to get a bit trickier as we near the Christmas period. Juventus squeeze past Torino courtesy of a Hernan Crespo volley (what else?), beat Cagliari rather comfortably, before two rather harrowing defeats at the hands of Lazio and AC Milan.
Following those two defeats, December becomes somewhat of a make-or-break month for Deschamps' side.
Wins over Sampdoria and Atalanta steady the ship ahead of a mammoth clash for Derby d'Italia rivals Inter. At San Siro, Juve pull off a shock 2-2 draw with the league leaders thanks to goals from David Trezeguet and Mauro Camoranesi.
In the last two games before the winter break, Juve beat Parma at home before succumbing to the brilliance of Luca Toni in Florence.
Points: 10.
Position: 19th.
---
January & February With the turn of the new year comes the signing of Zdenek Grygera and Gabriel Heinze (Deschamps' favourite) – both of whom will join the club in the summer – and a meeting with Francesco Totti's title-chasing AS Roma. Juventus just hold on at home, seeing AS Roma spurn a number of chances, to record a crucial 1-1 draw.
La Vecchia Signora follow up one draw with another – this time with Udinese – before a storming run of six wins on the bounce end February finally clear of the relegation zone.
Points: 30.
Position: 9th
---
March & April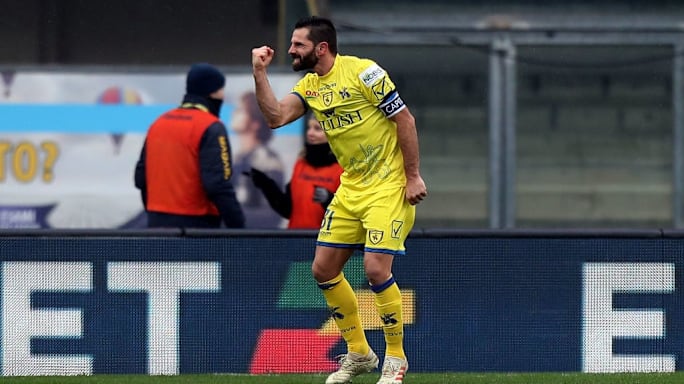 Now sitting comfortably in mid-table, La Vecchia Signora slip to a damaging draw at home to Palermo before a defeat away to Chievo because Sergio Pellissier decided to score against Juve AGAIN.
A Derby della Mole win and a trouncing of Cagliari in Sardinia steadies the ship however, before defeat to both Lazio and Milan. Juve round out April with a stalemate at home to Sampdoria and a win over Atalanta.
Points: 41.
Position: 11th
---
May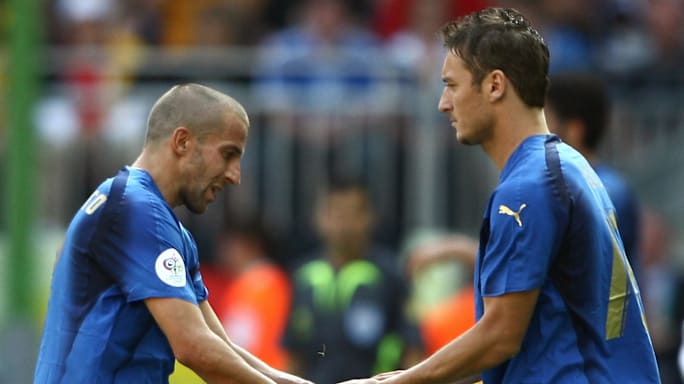 Into the final month of the season, and Juventus – miraculously – are still in with a shout of qualifying for the UEFA Cup…until Inter stamp their authority at the Stadio Olimpico in a thoroughly impressive 2-0 win.
The defeat leaves Juve with little more than pride to play for in the final weeks of the season. La Vecchia Signora beat Parma, draw with Fiorentina at home and, on the final day of the campaign, play out a barn-storming 3-3 draw with Roma; hat-tricks for Del Piero and Totti because I'm 3,000 words deep in this article so why the hell not.
Final Points: 46.
Final Position: 10th.
---
Conclusion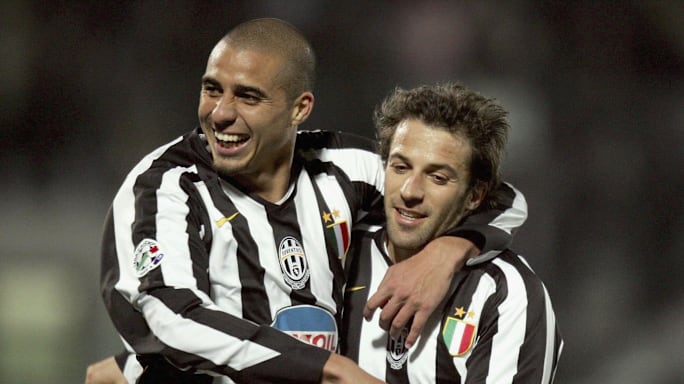 A solid first post-Calciopoli season for Juventus who, had it not been for the huge points deduction, would've finished third behind champions Inter and Luciano Spalletti's irrepressible Roma side.
Whether or not Didier Deschamps stayed longer than one season largely depended on how well he would be back during the 2007 summer transfer window.
In our alternative timeline, with less financial damage caused by Calciopoli and with his favourite football (Gabriel Heinze) signed, perhaps he would have been. And perhaps Juve would've stopped Inter from winning absolutely everything for the remainder of the decade. And perhaps Secco and Blanc may not have been the most useless board members in the club's history….actually scratch that last one, because the incompetence of the Secco and Blanc would likely have led to a dip in the side's fortunes sooner, rather than later.
---
Let'