Ever since his emergence in 2018, Sandro Tonali has been frequently compared to Andrea Pirlo. It's an easy comparison to make: they are both natives of Lombardy who began their careers at Brescia, they have distinctive, long, dark hair and occupy the role of a deep-lying playmaker – more commonly known as a 'regista' within Italy.
Tonali himself seems a little embarrassed by the comparisons and feels that they are somewhat misguided. Speaking to Corriere della Sera, he said: "For me it's not a suitable comparison. Having similarities is one thing, but then on the pitch everything is different, Pirlo had a crazy quality. I don't know who will reach it." Pirlo agrees that the two are very different players, believing that Tonali is more of a complete player than he was, stating on an Instagram live interview (via La Gazzetta dello Sport) that: "For me, he is another type of player, much more complete, both in defence and in approach – it's a mix between me and other players.
"I don't see him as an heir because his way of playing is different, but he will certainly become a great player."
Pirlo is right in saying that Tonali is a more complete and defensive minded player. L'architetto wasn't known for his strength or tackling abilities – skills that Tonali possesses in spades. The 20-year-old is also fairly quick for a central midfielder, having the ability to completely change the direction of play by expertly intercepting the ball and then speeding away with it. Pirlo, on the other hand, was actually something of a slow player, but made up for it with his excellent positioning, dribbling, passing and ability to hold onto the ball.
The comparisons of playing-style, however, are not completely unfounded. They are both 'registi' – which is Italian for 'directors'. As the name suggests, their role is to control the direction of play, meaning that they must possess a superb understanding of the game, in addition to having the ability to pick out passes. Tonali and Pirlo both exhibit excellent anticipation, vision, creativity and passing ability – traits which make them ideal registi, and traits which made Pirlo one of the best players in the world during his prime.
They're also both remarkably elegant players. Tonali and Pirlo can glide past players effortlessly and then pick out an incredibly precise pass, making them a genuine pleasure to watch. This precision also makes them particularly adept at set-pieces. Pirlo almost seemed zen when it came to free-kicks, calmly striking the ball into the back of the net on a consistent basis. This made one of the best free-kick takers in the world, and helped him to earn a reputation as one of the 'classiest' players in football.
Tonali is developing a reputation of his own for being proficient at set-pieces, with four out of the five assists he has made this season being from either corners or free-kicks. He also scored a Pirlo-esque free-kick against Genoa earlier this season. Virtually standing on the touchline, Tonali struck the ball from the side of the box with such power and accuracy that it went into the back of the net. It's a certain candidate for goal of the season, a feat more impressive when you consider that was Tonali's first (and to-date, his most recent) Serie A goal.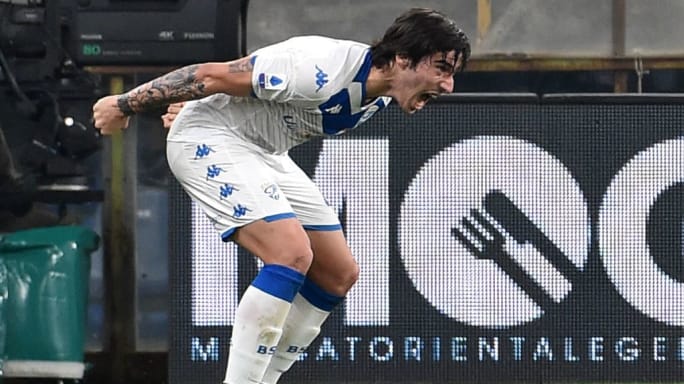 For all the traits Tonali and Pirlo share however, Tonali is still some way off of Pirlo's ability, especially in terms of passing. Tonali already possesses a good passing ability, however, and at the age of just 20 we can expect this to improve significantly to the point where he could be considered one of best at it in the world.
This brings us to the main point of this piece. The fact that Tonali is a more complete player, in addition to the fact he still has much room for growth, means that he could, one day, surpass the man he has been constantly compared to.
Pirlo had glaring faults in his game that he was able to make up for in other areas, but Tonali doesn't appear to have faults that can't be fixed with age. He still has a while to go before he can surpass Pirlo's ability, but he has demonstrated that he has more than enough potential to do so.
Let'